Lensmen Commercial Food and Beverage Photographer Dublin, Ireland, is Here to Help You
Give us a call at 01 8197738
Since the pandemic struck, it appears increasingly certain that the way food producers and restaurants operate will need to change, and this change is unlikely to be short-term.
Lensmen, Commercial Food and Beverage Photographer in Dublin, Ireland, is Here to Help You. We have already seen this start with traditional pubs taking to serving food to reopen under the new Covid-19 rules and with some restaurants only doing takeaway service for the foreseeable future. Unfortunately, many caterers, restaurants, and entertainment venues will not re-open in their current form. 
But, as with any crisis, there is an element of opportunity for the brave and driven. We have seen many great examples of innovation since the country emerged from a nationwide lockdown. One common theme is the move to digital. Even rural takeaways have embraced online menus, ordering via an app, and SMS notifications for hungry customers. Many restaurants have changed their regular menus to ensure diners can consume a three-course meal in the required timeframe. Also, it is becoming a standard feature for the menu to be provided in advance, with the main courses being ordered in advance.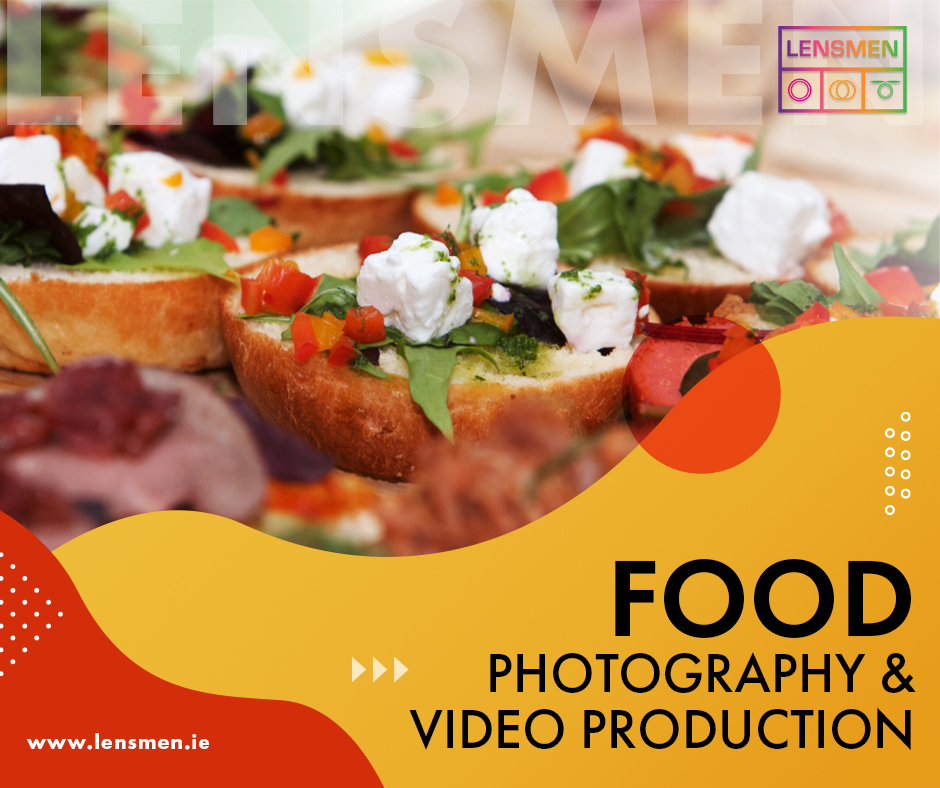 This new way of marketing, offering, and delivering food still throws up an old and long-standing challenge for proprietors. That is, restaurants still need to get the word out! They need to show that they are open and hungry for business. To entice diners back, they must update their old menus with new options, amazing food photography, and video production. What better way to do this than by freshening up the business's digital assets with irresistible food photography and videography? These photographs and videos can be used in many ways, including compelling social media posts. And we can help you with this. 
Here at Lensmen, we understand that each restaurant has its own story, so you must tell your story the way you want. We want people to see the preparation and the skills that go into creating each dish. Our team ensures the food looks delicious and vibrant and that the surrounding environment powerfully represents your menu and venue. Food and Beverage photography is one thing that many restaurants can often overlook. However, excellent presentation is a vital component of the success of many businesses in the hospitality industry. Putting out low-quality images/videos may well reflect the overall impression of your business. The team at Lensmen can produce excellent quality Food and Beverage slow-motion reels, Food recipe videos, kitchen videos, or a mixture of all three. 
It has never been more critical for businesses and brands to get in front of potential customers and clients. Brand recognition is vital to encourage custom. During these unprecedented times, it is obvious that there will be a sense of fear in people. Hence, it is essential to showcase the quality of the food, the commitment to safety, and the overall appeal of the venue.  The Lensmen team of Commercial Food and Beverage Photographers and videographers can create compelling visual marketing assets to help you get people through the door. Then it is up to you to ensure they become raving fans of your fabulous food fare! 
Founded in 1952, Lensmen is one of Ireland's most established and accredited photography and video production agencies. The Lensmen team specialise in Commercial Food and Beverage Photographer and Video Production  https://www.lensmen.ie.